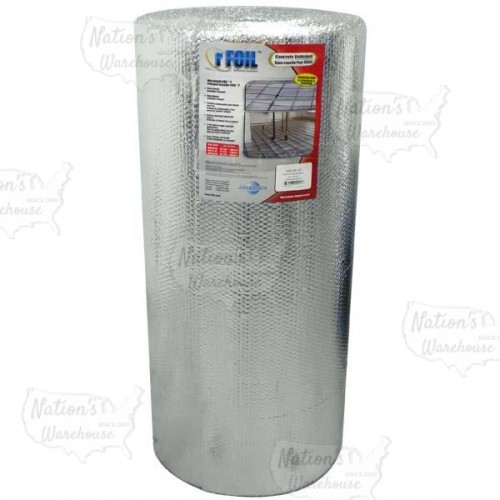 4320 series underpad is a multi-layer reflective bubble insulation, comprised of metalized reflective foil, 8.4mil dual-bubble and top-most white poly layer. The underpad is R-1.1 and provides a basic thermal break in concrete slab installations. It also serves as an effective water vapor & radon barrier and is resistant to mold, fungi and insects.
rFoil Underpad is durable, puncture and tear resistant. It is best suited for projects where slab insulation is optional and the additional cost of rigid foamboard installation is unfeasible. 4ft x 125ft roll covers a 500 sqft area. White layer must be facing up when installing.
Features:
For use in under-slab conrete installations with or without radiant heat;
2-in-1 insulation & vapor/radon barrier;
Quick and easy to handle, cut and install - saves time, labor and money;
Cost-effective alternative to rigid foam insulation;
3.5 times the compression strength of rigid foam;
Also suitable for slab edge insulation;
Does not crack or delaminate;
Resistant to insects, fungi, bacteria.
Product Type
Concrete Slab Insulation
Insulation Width
48"
Insulation Size
500 sqft
Brand
rFoil
500 sqft Concrete Radiant Heat Insulation, 4 ft x 125ft