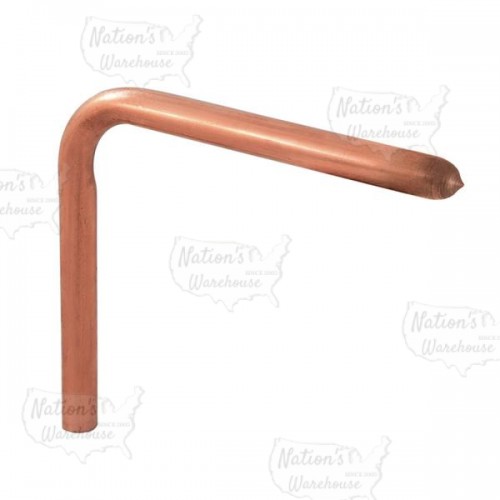 The Sioux Chief 613-67 is a standard L Type copper tub spout with an out elbow. For convenience, it has a swivel spout and is corrosion resistant and lead free .
The 613-67 has a nominal size of 1/2 inch, 1-1/4 inch Bend Radius, FNPT Sweat Connection, L1: 6 inch, L2: 7 inch Height.
All Sioux Chief plain end copper fittings are Press-Fitting and PushFitting compatible.
Benefits:
Simplifies installation of bath tub spouts
Lead-free, approved for domestic water use
Spin-closed outlet for pressure-testing purposes
Saves labor and installation costs
Features:

Accepts sweat, push-fitting and compression valves
Combines easy adapting of copper stub outs with easy installation of PEX system
Type L copper
Tube stops formed into each fitting
One-piece solid copper
Push-fitting systems are not compatible with nickel-plated stub out elbows
Sioux Chief preformed elbows are factory-produced to the ASME/ ANSI B16.22 Standard for Copper Sweat Fittings, in the same exact manner as common sweat elbows made by Nibco, Elkhart, and Mueller. Sioux
Chief elbows should be considered as the same, regardless of the length of the leg of the Sioux Chief elbows. The bend itself is no different than a common sweat 90. The wall thickness of the back side of the bend is not thinned out, and meets all requirements of ASME/ANSI B16.22. The overall part is burst tested to 2900 psig, which means the bend can and does hold this much pressure.
About SIOUX CHIEF:
Sioux Chief offers all major PEX systems. Sioux Chief's PEX offering is the most complete in the plumbing industry. All fitting and tubing solutions carry a 25-year warranty, mixed or matched. Sioux Chief does not limit its warranty on tube or fittings based on matching system connections. This is unique.
PowerPEX is warranted across all three of Sioux Chief's PEX system connection offerings, giving contractors the ability to choose the right tube or fitting connection for each application, layout or contractor comfort level. We call this Fitting Freedom™.
Sioux Chief believes intelligent systems may incorporate hybrid PEX offerings to maximize each connection system's benefit. This Power to Choose™ puts the plumber back at the heart of smart plumbing.
Documentation:
For complete product instructions specifications and how-to installation please visit: https://www.siouxchief.com/products/supply/specialized-supply/sweat/pfc/tub-spout-elbow/standard?template=P3Technical
Options
Standard
Size
1/2"
Application
Plumbing
Product Type
Stub Out Elbows
Connection
Sweat
Sioux Chief 613-67 Standard L Type Copper Tub Spout Elbow, 1/2 Inch Male Sweat, 7 Inch L x 6 Inch H