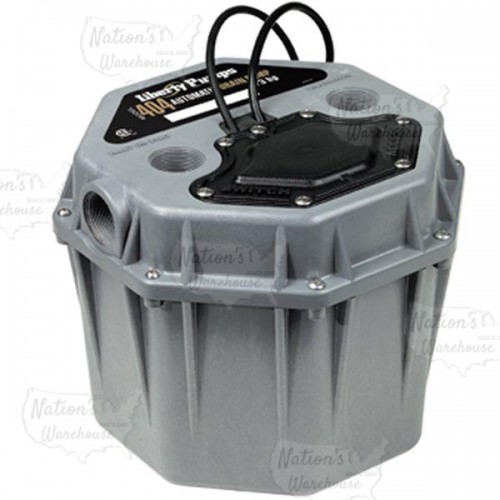 The 404 from Liberty Pumps is an Automatic Drain Pump w/ 4.3 gal basin, 1-1/2" connections, 10' cord, 1/3HP, 115V. The Liberty 404 drain pumps are designed for wastewater systems and will handle small debris such as laundry lint. These drain pump are applicable to bar sinks, laundry trays, dehumidifiers, utility sinks and gray wastewater drainage below gravity lines.
The Liberty Pump 404 comes equipped with a float switch that has a piggyback plug for temporary manual operation of the pump. The Liberty Pump 404 pre-assembled drain pump has a 1-1/2" discharge. A union must be installed just above the pump to facilitate removal if necessary for cleaning and service. Install a check valve above the union to prevent the backflow of water after each pump cycle. This drain pump's 1-1/2" vent allows extra volume for high suds conditions and to allow proper drainage of the fixture. The Liberty 404 also has two ports, one on the top of the drain pump and one on the side. They can either be used as a vent or inlet (1-1/2"). A trap shall be used between the fixture and the pump, a flange type is recommended.
The Liberty Pump 404 pre-assembled drain pump has a total basin capacity of 4.3 gallons and can handle liquid temperatures up to 140F. Its oil-filled, hermetically sealed motor is equipped with thermal overload protection. This drain pump also has a separate access cover for easy switch inspection. The Liberty 404 drain pump is not intended to be used with chemicals.

Features:
Factory pre-assembled, ready to install
Fully automatic operation
Short profile design for compact areas - only 11" tall
Separate access cover for easy switch inspection (QuickTree)
Integrally molded rubber gasket for a superior gas-tight seal
Compact design for tight areas
Oil-filled, hermetically sealed motor with thermal-overload protection
10 ft., 3 wire power cord with grounded plug
Corrosion-resistant polyolefin basin with molded-in connections
Maintenance-free, permanently lubricated sealed bearings
3/8" Solids-Handling

Technical Specifications:
Horsepower: 1/3 HP
Voltage: 115V
RPM: 3450
Hertz: 60
Ampers: 5a
Maximum Fluid Temperature: 140F
Cord length: 10'
Inlet: 1-1/2" FPT
Discharge: 1-1/2" FPT
Vent: 1-1/2" FPT
Solids Handling: up to 3/8"
Weight: 13 lbs.
Height: 11-1/8"
Major Width: 13-3/4"
Total Basin Capacity: 4.3 Gallons

Warranty:
3 years manufacturer's warranty
Material
Other
Type
Automatic
Application
Plumbing
Voltage
115V
Horse Power
1/3 HP
Series
404
Product Type
Drain Pumps
Sump Pumps
Cord
10'
Max Shut-Off Head
10-20 ft
20-30 ft
Max Flow @ 5' of Head
20-30 GPM
30-40 GPM
Brand
Liberty Pumps
Automatic Drain Pump w/ 4.3 gal Basin, 1-1/2" Connection, 10' cord, 1/3HP, 115V