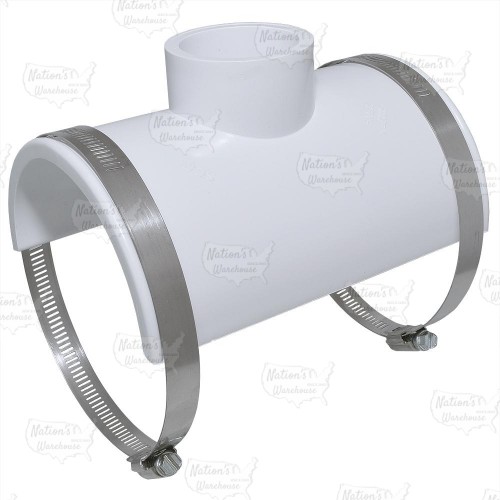 The 891-0412P from Sioux Chief 4" x 1-1/2" hub (or 2" spigot) PVC Smart Saddle Tee.

Features:
•Easily connect 1-1/2" or 2" PVC line to an existing 4" PVC line (Sch. 40);
•Stainless steel bands ensure equal pressure distribution, eliminating pressure points common with U- or V-shaped bolts;
•No special tools or materials required - the saddle tee is installed using regular PVC primer and glue.

Technical Specifications:
For 4" Sch. 40 or 80 PVC pipe in DWV applications;
Branch connection: 1-1/2" Hub (accepts 1-1/2" Sch 40/80 PVC pipe) or 2" Spigot (can be glued into 2" Sch 40 PVC fitting);
Material: PVC;
Tee width: 5";
Tee height: 6-3/4";
Band material: Stainless steel;
Band width: 0.6";
Band length: 16-1/2".
Material
PVC
Size
1-1/2"
4"
Connections
Hub (Socket)
PVC Fitting Type
Saddle Tees
Brand
Sioux Chief
4" x 1-1/2" hub (or 2" spigot) PVC Smart Saddle Tee