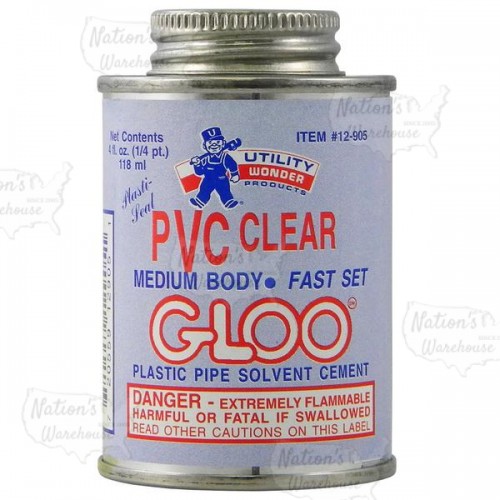 The 12-905 from Utility Wonder is a PVC Cement w/ Dauber, Medium-Body Fast-Set, Clear, 4 oz (0.25 pint). It's recommended for type I and II, schedule 40 PVC pipe and fittings up to 8" in diameter and sch. 80 PVC pipe and fittings up to 6" in diameter. Suitable for potable water and DWV (drain/waste/vent) systems.

Features:
4 oz (1/4 pint) can with dauber;
Clear;
Medium-body, fast-set;
NSF certified for potable water;
Conforms to ASTM D-2654;
Made in the USA.
Size
1/4 pt
4 oz
4 oz (1/4 pint)
Product Type
PVC Cement
Color
Clear
Cement for
PVC
Set Time
Fast Set
Cement Body
Medium Body
Brand
Utility
PVC Cement w/ Dauber, Medium-Body Fast-Set, Clear, 4oz
Views: 3007
QR
Brand: Utility Wonder
Model:

12-905

MPN:

12-905

Availability:

15
Tags: PVC Cement, Chemicals, Plumbing Supply, PEX, Pipe Fittings, Residential Plumbing