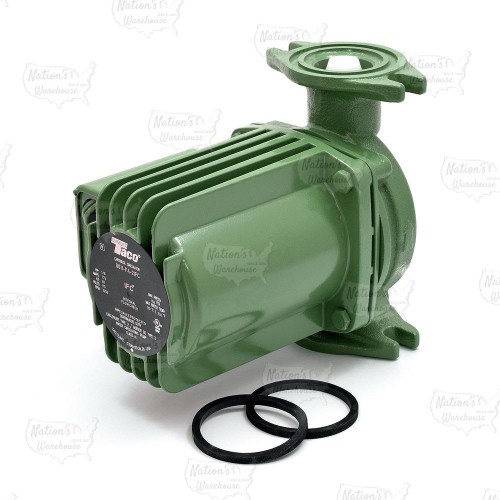 The 0011-F4-2IFC from Taco is a Circulator Pump with IFC, 1/8HP, 115V. It's designed for high head and medium flow applications, that are common for large residential and light commercial applications, such as closed loop hydronic heating. The IFC built into the circulator eliminates the need for purchase and installation of an additional in-line check valve and performs better when compared to regular check valves. Taco 0011-F4-2IFC Circulator is perfect for boilers with high pressure drop, as well as fan coil units, heat exchangers, large radiant heat and heat recovery/geothermal systems. Universal flange to flange dimensions and flange orientation of the circulator allows it to serve as a replacement for other models. Compact, has low power consumption and ideal for high-efficiency jobs. Both IFC and cartridge are easily accessed for service, saving the need for replacing the entire circulator.
Taco 0011-F4-2IFC replaces:
Grundfos UPS 26-99FC.

Applications:
High Pressure Drop Boilers
Medium/Large Hydronic, Geothermal and Radiant Heating projects
Wood Boilers / Furnaces
Hydro-Air Fan Coils
And many others

Performance Data:
Flow Range: 0 – 30 GPM
Head Range: 0 – 31 Feet
Minimum Fluid Temperature: 40˚F (4˚C)
Maximum Fluid Temperature: 230°F (110˚C)
Maximum Working Pressure: 125 psi
Connection Sizes: 3/4", 1", 1-1/4", 1-1/2" Flanged

Electrical Data:
Voltage: 115V;
Hertz: 60Hz;
Phase: 1;
Amps: 1.76A;
HP: 1/8HP;

Warranty:
3 year manufacturer's warranty.
Material
Cast Iron
Features
Check Valve
Type
1-Speed Pumps
Connections
Flanged
Application
Heating
Max. Head
30-40 ft
Max. Flow
30-40 GPM
Voltage
115V
Horse Power
1/8 HP
Series
0011
Product Type
Circulator Pumps
Brand
Taco
Taco 0011-F4-2IFC Circulator Pump with IFC, 1/8 HP, 115V