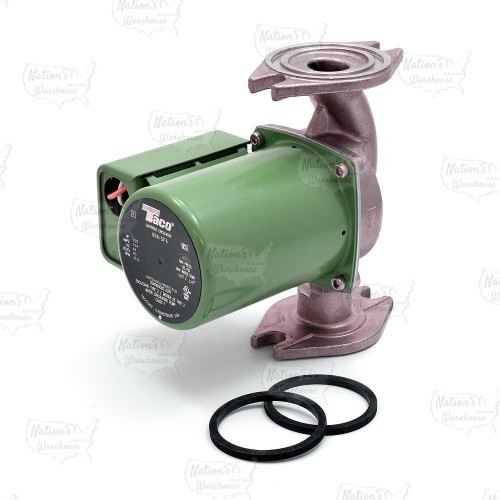 The 008-SF6 from Taco is a Stainless Steel Circulator Pump, 1/25HP, 115V. It's designed for a wide range of residential and light commercial applications with higher head requirements. Common uses include hydronic heating, radiant floor heating and solar heating in open or closed loop systems, as well as high head heat recovery, water source heat pump and domestic hot or cold water recirculation systems. Features a unique replaceable cartridge which allows easy field-servicing, instead of replacing the entire circulator. Taco 008-SF6 circulator pump is compact, direct-drive model, with low power consumption and high-efficiency.
Taco 008-SF6 replaces:
Grundfos UP15-42SF
B&G SSF-22

Applications:
Hydronic Heating;
Radiant Heating;
•Hydro-Air Fan Coils;
Indirect Water Heaters;
Chilled Water Cooling;
Domestic Water Systems;
And others;

Electrical Data:
Voltage: 115V;
Hertz: 60Hz;
Phase: 1;
Amps: 0.84A;
HP: 1/25HP;

Technical Specifications:
Flow Range: 0 – 14 GPM;
Head Range: 0 – 16 Feet;
Minimum Fluid Temperature: 40˚F (4˚C);
Maximum Fluid Temperature: 240°F (115˚C);
Maximum Working Pressure: 125 psi;
Connection Sizes: 3/4", 1", 1-1/4", 1-1/2" Flanged

Warranty:
3 year manufacturer's warranty.
Material
Stainless Steel
Type
1-Speed Pumps
Connections
Flanged
Application
Heating
Plumbing
Max. Head
10-20 ft
Max. Flow
10-20 GPM
Voltage
115V
Horse Power
1/25 HP
Series
008
Product Type
Circulator Pumps
Brand
Taco
Taco 008-SF6 Stainless Steel Circulator Pump, 1/25 HP, 115V