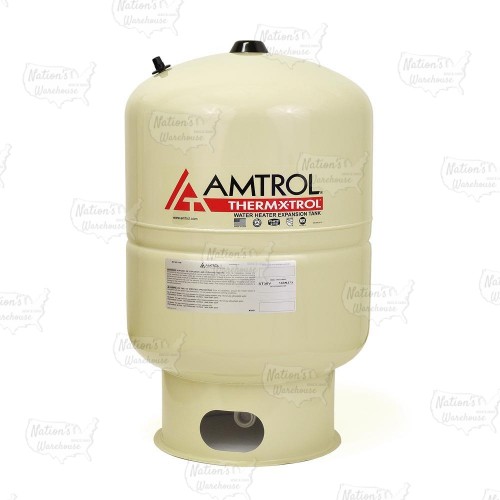 The 149N273 from Amtrol is a Therm-X-Trol ST-30V Thermal Expansion Tank (14 gal volume). With modern plumbing codes mandating backflow prevention, thermal expansion can cause pressure buildup in domestic water systems. Backflow preventer, pressure reducing valve or other one-way device causes expanded (heated) water to build pressure causing the relief valve to open resulting in wasted energy, shortened water heater life, wasted municipal water and sewer dollars, potential safety hazard.
The Amtrol THERM-X-TROL Expansion Tank is designed to eliminate this problem by providing control of maximum pressures at a level below the relief valve setting. It also provides an additional space in the system to accommodate the increased volume of water created by thermal expansion, returning it to the system when hot water delivery is demanded. Maximum pressure is kept well below the relief valve setting by the THERM-X-TROL, with its pre-charged air cushion that is separated from system water. The relief valve does not open, therefore spillage is eliminated.
The Amtrol ST-30V is safest and most cost effective way to control Thermal Expansion and easy to install. The Therm-X-Trol first to obtain NSF/ANSI 61, IAPMO, SBCCI & City of Los Angeles listings and first to offer 5 year limited warranty.
The Amtrol ST-30V THERM-X-TROL Expansion Tank is used in wide range of application: Residential Water Heaters, Office & Apartment Buildings, Dormitories, Food Service, Laundromats, Hospitals and Other General-Use Hot Water Systems.

Features:
Stainless Steel Connector;
Deep Drawn Steel Domes for maximum strength & pressure rating;
Rigid Polypropylene Liner for corrosion resistant reservoir;
Butyl diaphragm for long life expectancy;
Diaphragm Hoop Ring mechanically grooved for permanent air-tight seal;
Welded Steel Construction;
Welded Air Charge Fitting with protective plastic cap for corrosion resistance and maximum air-tight seal;
Listed by NSF/ANSI 61;

Technical Specifications:
Factory pre-charged pressure: 40 PSI;
System connection: 3/4' NPT;
Max. operating temperature: 200F;
Max. working pressure: 150 PSIG;
Expansion tank volume: 14 gallons;
Max. accepted factor: 0.81;
Height: 23-7/8';
Diameter: 15-3/8';
Shipping weight: 23 lbs;
System Connection: Stainless Steel
Diaphragm: Butyl;
Liner Material: Polypropylene;
Application
Plumbing
Volume
14 Gallons
Series
Therm-X-Trol
Product Type
Expansion Tank
Brand
Amtrol
Amtrol 143N273 Therm-X-Trol ST-30V Thermal Expansion Tank (14.0 Gal Volume)